Daily Schedule
Routine periods of activities, rest, meals and relaxation establish desirable habits and promote an even tempo in camp.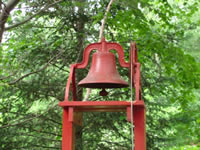 Monday - Saturday
7:15am Reveille & Wake up Bell
7:45am Flag Raising
7:50am- 8:30am Breakfast
8:30am-9:00am Cabin Clean-up, Staff Meetings
9:15am – 12:15pm Three Activity Periods
12:15pm - 2:00pm Lunch, Candy Store, Mail and Rest Hour
2:15pm - 5:00pm Three Activity Periods
5:00pm Supervised Free Hour
6:00pm Dinner
7:00pm Evening Program
8:00pm Flag Lowering & Taps
8:30pm - 9:30pm Bed times
Sunday
Sunday is a more relaxed day-cabin groups may elect to do various activities or join in all-camp programs.
Red Pine is non-sectarian. A different group of campers and staff work each week to prepare and conduct the evening Vesper's service, which focuses on values they feel are important. Topics range from the merits of friendship to the appreciation of nature to the sharing of a special tripping experience.
On Sundays, all campers are encouraged to write home. This assures that parents get at least one letter a week! A weekly postcard from each girl's counselor is sent home to keep the family posted on their camper's activities and progress.